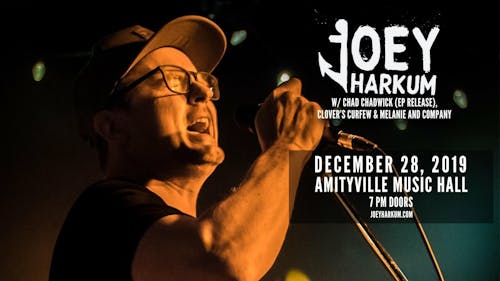 Presented by East Coast Collective
Joey Harkum
Chad Chadwick, Clover's Curfew, Melanie and company
$12.00 - $15.00
Tickets At The Door
Joey Harkum, Chad Chadwick EP Release, Clover's Curfew & Melanie and Company at Amityville Music Hall Saturday December 28th
Joey Harkum performs at Amityville Music Hall in Amityville, NY on December 28, 2019 with Chad Chadwick (EP Release Show), Clover's Curfew and Melanie & Company.
Joey Harkum
December 28, 2019
Amityville Music Hall
w/ Chad Chadwick (EP Release Show), Clover's Curfew and Melanie & Company
Doors: 7 PM
Joey Harkum:
https://www.joeyharkum.com/
https://www.facebook.com/JoeyHarkum/
https://www.instagram.com/joeyharkum/
https://www.youtube.com/user/joeyharkummusic
For his entire life Joey Harkum has been strumming a guitar and after a decade of touring as the lead singer and songwriter of Baltimore-based band Pasadena, he released his debut solo album, Love and Labor, to critical claim in 2016. Known for his deep and poignant lyrics telling stories of joy, love, loss and sadness, Joey brings the human experience to life through his relentless tour schedule that culminated in the release of Live at Buffalo Iron Works in 2018. Catch him on tour now in support of his new single "Burn It Down" and see for yourself at joeyharkummusic.com.
Chad Chadwick ( of Oogee Wawa )
Clover's Curfew
Clover's Curfew is a punk/folk band based out of Long Island, New York. Jameson Jenkins and Danni Christian started writing music together in the beginning of 2018. Jameson's backround in punk and Danni's in folk made for a kickass combination. In just one year they have traveled across the country three times, busking in Austin, Texas during the SXSW, performing in Nashville, Tennessee during the Summer NAMM Convention and hitting up the Punk in Drublic festival in Ohio for a weekend filled with memories and new friends. They are artists of the Winter NAMM Convention in California this year and couldn't be more excited for what's to come. They hope to inspire others and keep screaming their lyrics until everyone screams along. Life is about having a good time and that's what these two are all about. Be sure to check out their IG-cloverscurfew too for upcoming shows and events!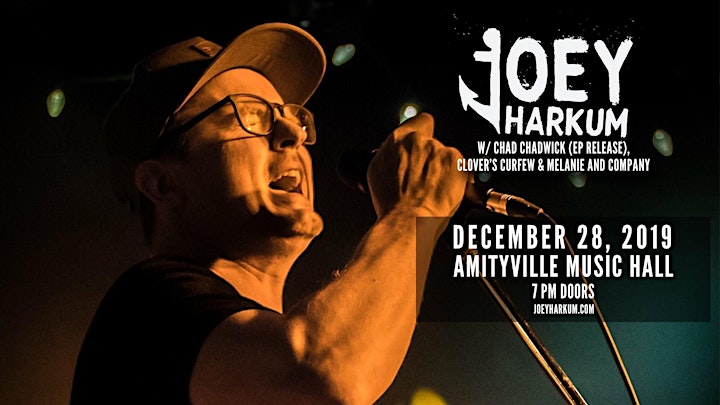 Venue Information:
Amityville Music Hall
198 Broadway
Amityville, NY, 11701